With its original name meaning "beer brush" and celebrating its hybrid nature between architecture and pop art in the heart of Berlin, Bierpinsel is the building portrayed in the winning photograph of the 2023 Icons of Architecture Award, taken by Martin Wacker and selected by Matrix4Design from more than 200 photographs entered in the competition organized in collaboration with URBAN Photo Awards.
This is the motivation: "We chose to reward the shot that disoriented us more than the others, testing our ability to identify and understand perspectives, orientations and angles of light. The author has radically reinterpreted the point of view of the building, 'turning off' the colors that identify it today and bringing it back to its original shades of light and dark."
On the occasion of the official announcement, we contacted Martin Wacker and asked him a few questions about the origins of the winning photo and his approach to architectural photography.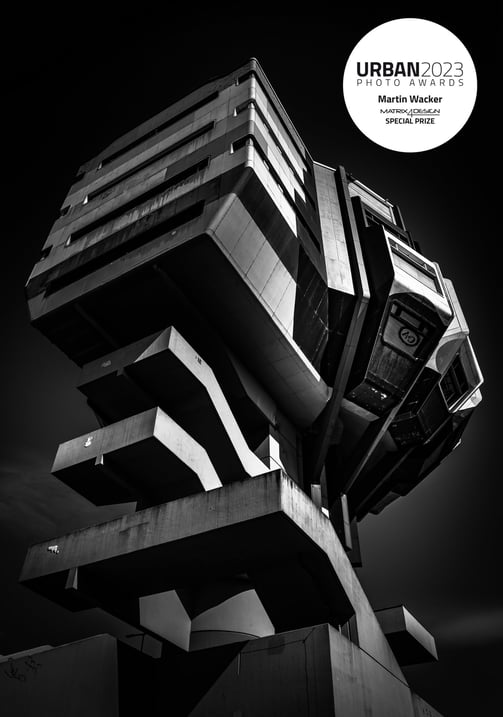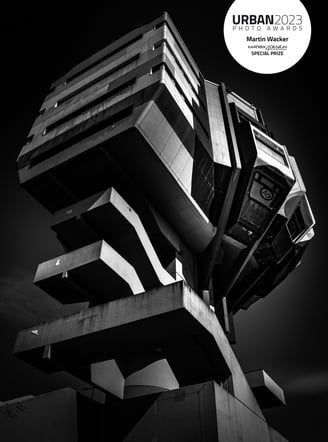 2023 Icons of Architecture Award, the winning photo is Bierpinsel by Martin Wacker
How did the "Bierpinsel" photo come about?
My wife – also a photographer – and I were planning a trip to Berlin and we put together a list of 18 locations. The building with the nickname "Bierpinsel" (beer brush) was our last destination. Honestly, when we saw it for the first time we were kind of disappointed. But, once imported into Lightroom I thought it could be a Wow shot.
What are the origins of your passion for photography? What is your background?
I started my business career at a film production company for TV commercials. All my life, I've been working in the audiovisual industry in different jobs. Having worked with brilliant Directors of Photography (DOPs) really inspired me. My affinity for photography was always there and in 2011 I bought my first DSLR camera.
In your opinion, what is fascinating about the relationship between photography and architecture?
Perspective and perception: photography influences how we perceive and understand architecture. The choice of angles, framing, and composition in architectural photography can alter our perception of a building. Photographers can emphasize certain features or create a sense of scale, helping viewers to appreciate the design and spatial qualities of a structure.
How do you photograph a building? What kind of skills are needed to take an impactful photograph?
Paying attention to composition and framing. I enjoy experimenting with different angles and perspectives to find the most interesting and dynamic view of the building. Sometimes, I use wider framing to include context by capturing the building within its surroundings or I'm waiting to have the right people in front, which can provide a sense of scale and place.
What are the characteristics that distinguish your style as a photographer?
Characteristics that distinguish my style as a photographer are simplicity and minimal processing. I look for strong geometric shapes in architecture, and the play of light and shadow on the structures. Over 90% of my photos are hand-held shots in order to be more flexible. As a purist, I don't use Photoshop – only Lightroom to keep pictures authentic.
What kind of feelings do you want to communicate through your photographs?
Well, that depends on the shot and my mood at the time when shooting and processing.
Ultimately, what does photography, and architectural photography in particular, represent to you?
Photography is a visual art that allows me to express my creativity and thoughts. In architectural photography, I like to emphasize composition, lighting, and perspective to create visually striking and aesthetically pleasing images of buildings, turning architecture into art.
Interview by Giulia Guerra